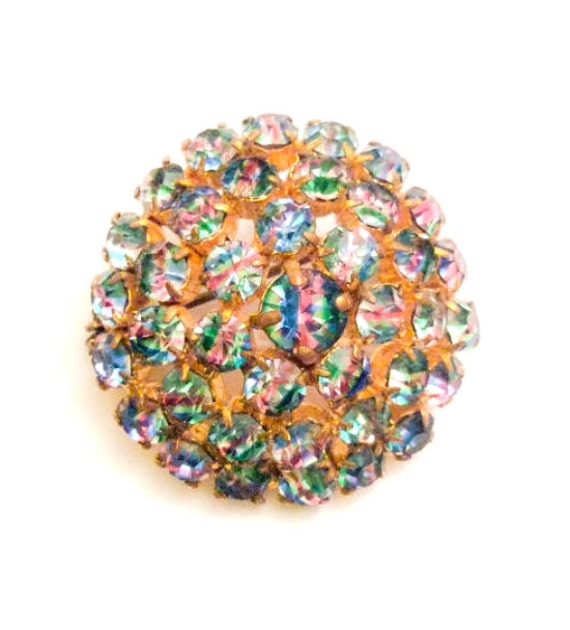 https://www.etsy.com/listing/274420898/art-deco-brooch-iris-glass-1940s-vintage?ga_search_query=iris+glass+brooch&ref=shop_items_search_1
An unbelievably beautiful piece featuring three circles of rainbow effect, cushion cut rhinestones that surround a larger central glass stone. All the stones are prong set. The gold tone prongs and settings add further glitter to this dazzling show. The brooch is dome shaped to create depth and dimension, and the settings are open backed to allow the light to shine through these stones. It is secured with a roll over c clasp.
This would make a beautiful accessory for a bride as a sash pin or hair accessory. There is a touch of blue in the Iris glass prism of colour.
The pin is in very good vintag
e
condition, measuring 1 1/4" diameter
This would have been manufactured during the transitional period, a movement from the dainty delicate jewelry of the earlier Art Deco years to the retro heavier pieces of the 1950s. Iris glass is very much an earlier influence.
Iris glass is highly collectible. Up until the end of the 19th century, iris glass was naturally found in the banks of rivers sourced in the European Alps. It was a form of quartz with an irridescence achieved by the internal fracturing as it made its way down from the mountains. This natural supply of Rhine stones was soon exhausted. Bohemian makers in the Gablonz region, therefore, began production of an artificial gemstone that replicated the prism qualities of iris glass by substituting with strands of colour. These rhinestones proved to be a commerical success and were demanded worldwide.
$35 plus $5 shipping
Coupon Code OURBOUDOIRBLOG10 will give you a discount of 10% when used at the checkout.